Transferring your phone number over to Red Pocket Mobile is very easy. The process can be done in three easy steps:
Step One:

Contact your previous carrier for your Account and PIN number.

Make sure to request the details specifically for number transfer purposes.

Step Two:

Visit redpocket.com/activate once your SIM kit arrives.

If you've purchased an eSIM, you can head over to the activation process immediately after ordering.

Step Three:

During activation, enter the number transfer details you've received from your previous carrier.

Select the previous wireless carrier and then enter the number you plan to transfer, the Account Number, and the PIN.
And that's it! Finish up your new line activation to start calling, texting, and browsing the web.
---
Need additional assistance with your number transfer? Keep reading.
You can port in your existing number from any major wireless carrier in the USA. You can even convert your landline or VoIP number (such as Google Voice) to Red Pocket Mobile!
After you have obtained your Red Pocket Mobile SIM, visit redpocket.com/activate and enter your Confirmation Code or your SIM card ICCID number. Choose to start a phone number transfer during the activation process. This will open up the number transfer request form.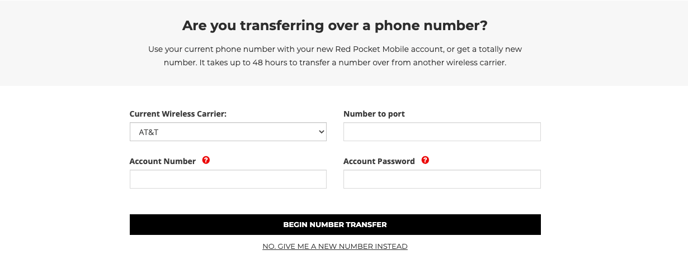 Please fill out this form as completely and correctly as possible. Any inaccurate information can delay the number transfer process. It's a good idea, if possible, to contact your previous wireless carrier and ask to speak with their "Number Transfer Department" specifically, as some wireless carriers have teams that specifically handle number transfers and this way you will avoid inaccurate data.
If all the information that you provide on our website is accepted by your previous carrier, the number transfer process will begin. It can take anywhere from a few minutes to a few hours to complete the number transfer.. However, porting in a landline number can take about 14 working days.
Prepaid wireless accounts all have Account Numbers and Passwords, even if you don't know them. If in doubt, please contact your current wireless provider and request your Account Number and Password, specifically for transferring a number, to ensure a smooth port-in process.
Your new line works with nearly any smartphone! Read this if you need any help setting up.
We look forward to welcoming you to Red Pocket Mobile!