Submit payment for an invoice
To submit payment for an invoice, including the $1 regulatory recovery fee, log in to the Red Pocket Mobile ACP Program Customer Portal.
Click here if you need help logging in.
Once, you're logged in, click on the PAY INVOICE button.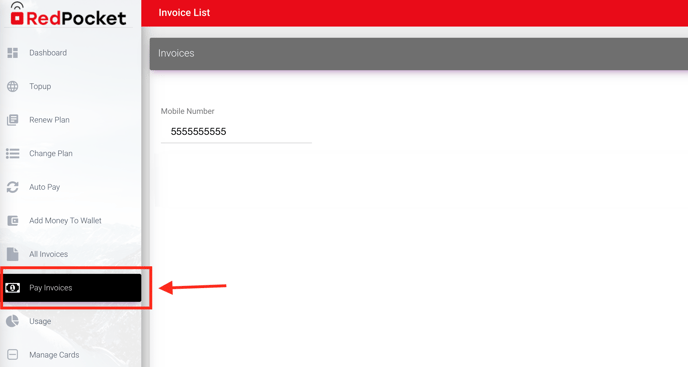 Any outstanding invoices that are due can be resolved from the PAY INVOICES page. If you do not have a credit or debit card on file, you can enter payment information at this time.
You may also add a new credit or debit card to your account from the MANAGE CARDS page. Click here to learn more about managing payment methods on your ACP account.
When would I receive an invoice?
You'll receive an invoice by email if you have any outstanding payments due. This may include your monthly service plan fee for higher tier plans, or the $1 Regulatory Recovery Fee.
Please note that all Red Pocket Mobile ACP plans are subject to the Regulatory Recovery Fee, including the 10GB plan for $0.00. Please click here to learn more about Regulatory Recovery Fees.